LAN all NIGHT Dallas: The Silence of the LANs
LAN Party organized by Steven Offield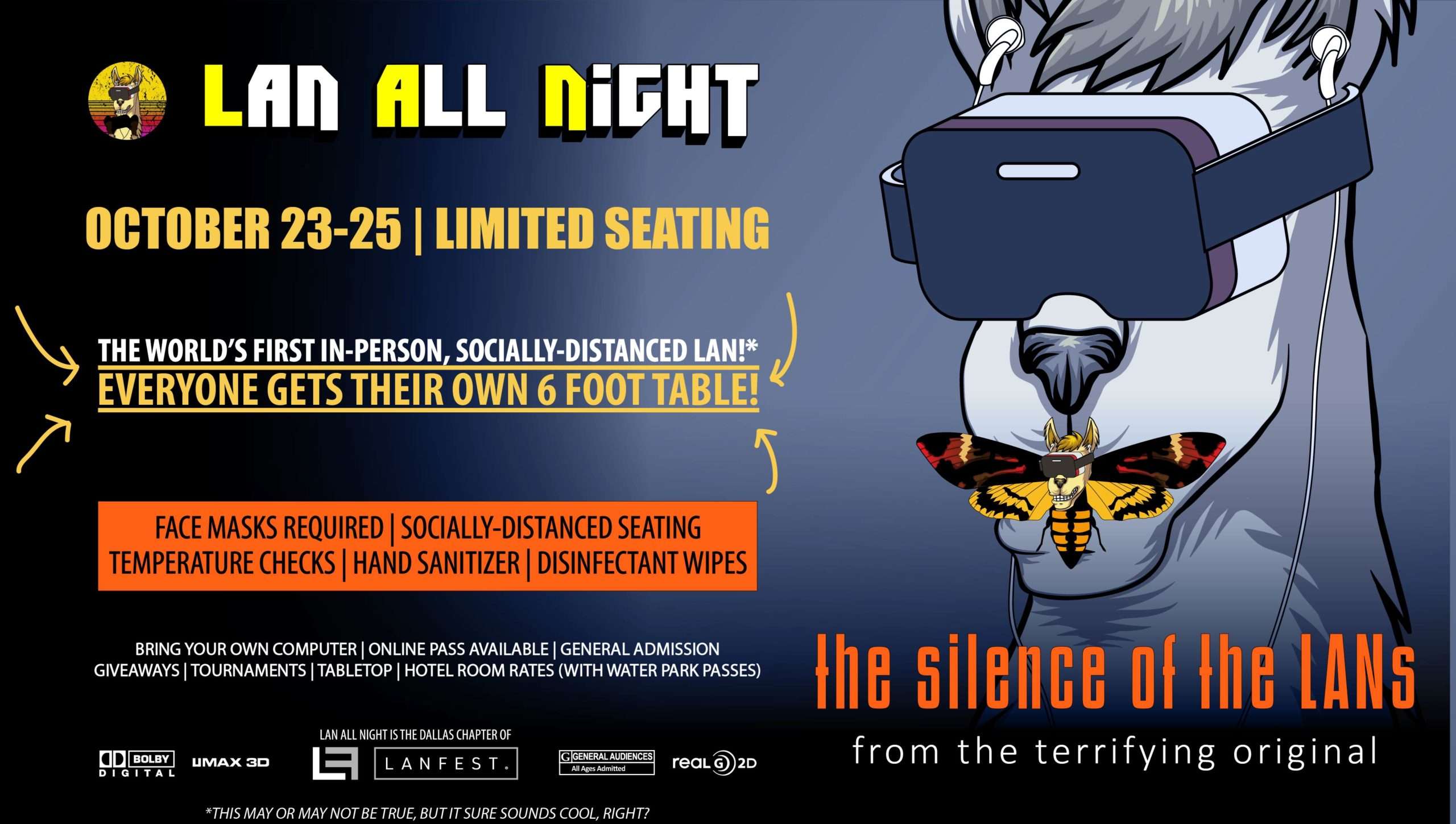 Event Details
Start Date and Time
October 23rd, 2020
End Date and Time
October 25th, 2020
Location
100 Great Wolf Dr
Grapevine , Tx
Get directions from Google Maps
.
Cost
$75 BYOC, $25 Tabletop, $20 Online-Only
Internet (T1 or better)
Yes
LAN all NIGHT Gaming Festival is holding their next in-person, socially-distanced LAN October 23-25 at the Great Wolf Lodge in Grapevine, Texas benefiting Helping Hands of Rockwall County. The event is themed "The Silence of the LANs" to fit with a Halloween theme. Safety is our Number One Priority Attendee and staff safety are of the utmost important to us, which is why we are taking the following precautions: Face masks are required Socially-distanced seating – Everyone will be seated 6′ apart. Everyone will have a 6′ table to themselves! We will provide hand sanitizer We will provide sanitizing wipes We will be doing temperature checks at registration No general admission tickets for this event in order to maintain social distancing No walk-up-and play computers to limit shared surfaces Ticket Information This will be a hybrid event, meaning it will be held both in-person and online. If you don't want to go in person, but you want to participate online and still be eligible for raffles and tournaments, you can buy an online-only pass In-Person Reserved Bring Your Own Computer (BYOC) Seat – $75 In-Person Reserved Tabletop Seat – $25 Online Only Ticket – $20 Limited in-person seating available. Act now! Hotel room rates available at $150 a night. The code to book a room at that rate will be released soon. Raising Money for Charity We're raising money from now through the end of the event. There are two ways you can support the event: Donate (https://lanfest.donordrive.com/index.cfm?fuseaction=donate.event&eventID=521) – Give a one-time or recurring donation to directly support charity Fundraise (https://lanfest.donordrive.com/index.cfm?fuseaction=register.start&eventID=521) – Create a fundraiser and get your friends and family to donate to it
Is this your first visit to this location?
Go with a friend! This is the best way to scope out a new event when bringing your $1,000 gaming rig.
If you're new to LAN Parties, read our LAN Guest Guide.
Party on!